Welcome to the Holiday Cookie Recipe Swap...Blog Hop
(really it's a linky party)
Join us for all FOUR weeks of cookie features, recipes, and linky parties.
Make sure you come back each week for a great new cookie recipe, plus each blog will be featuring their own favorite cookie links from the party!
You'll notice when you start this cookie, it's kind of more like a bar than a cookie. HOWEVER, it's been called a cookie for years and was handed down to me as a cookie so my friends, it's a cookie :) Here's a special note to those who dislike coconut (like myself), you can't taste it. So don't let that ingredient scare you off!
And now, the good stuff...
Ingredients: 1 cup graham cracker crumbs
Melt butter in 9x13" pan. Layer each of the ingredients in order. Graham cracker crumbs, coconut, chocolate chips, butterscotch chips, walnuts. Dribble milk over top. Bake at 350 degrees for 30 minutes.
Tell me that isn't just as simple as it can get?!?!
This week we had another fabulous turn out of delicious looking cookies but the one that caught my eye this week is the delicious looking Bounty Stuffed Snowballs from
The Velvet Moon Baker
Can't wait to try these babies!
Don't forget to grab a button if you were featured!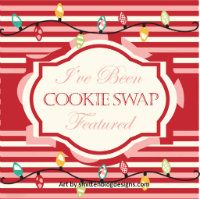 />
Please follow all four co-hosts.
This linky is for
COOKIE RECIPE
posts only, please!
Link up as many times as you want!
This is a month long party so keep coming back for more recipes and features!
Each blog will be featuring their favorite links each week!
(Make sure you get a button if you have been featured.)