Today's recipe is one I've been making for years that I originally got from my friend Traci.
When the kiddos were little we used to get together during the holidays and make all kinds of cookies and baked goods. Now as we are all getting a little (and I mean teeny) bit older we don't seem to have as much time to get together anymore other than the occasional lunch . But I still always make the Candy Cane Cookies that Traci taught me each year at Christmas.
Here's what you need:
1 cup margarine
1 cup sugar
1 egg
1 tsp. vanilla extract
3 cups flour
2 tsp. baking powder
1/4 - 1/2 tsp. peppermint extract ( I use a 1/2 tsp. but the original recipe calls for 1/4 tsp. It will be really strong smelling until after baking)
red food coloring (about 15 drops)
Preheat oven to 400 degrees. Line a baking sheet with parchment and set aside.
In the bowl of a stand mixer or medium bowl, cream together margarine, sugar, vanilla and egg.
Add flour 1 cup at a time, mixing until incorporated. The dough will be a little stiff.
Place 1/2 the dough in a separate bowl and set aside. Add about 15 drops of red food coloring to the dough still in the mixer to tint. Mix until the dough is a nice red color. It will be on the slightly pink side.
With lightly floured fingertips pinch off a piece of dough about the size of a small walnut and roll in a long rope about 6 or 7" long and the width of a wooden spoon handle or skinny finger, about 1/2". Repeat with the other color. Press both colors together lightly along the whole rope then twist together and shape into a candy cane shape. If they break just press them back together. I only had this happen on a few.
Bake for 10 minutes. You don't want them to brown. Let cook on tray a couple of minutes then move to a cooling rack. These cookies can also be marbled and made into round cookies.
Serves - approximately 36
Enjoy!
So far we have had a wonderful amount of scrumptious looking cookies that I can't wait to try for Christmas this year!
Three ingredient Spritz ~ one of my all time favorites :)
Since each of the four co-hosts pick their own feature of the week, be sure to stop by each blog and check out their weekly pick.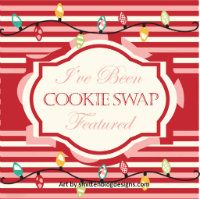 />