Welcome to

the Holiday Cookie Recipe Swap...Blog Hop
(really it's a linky party)
Join us for all FOUR weeks of cookie features, recipes, and linky parties.
Make sure you come back each week for a great new cookie recipe, plus each blog will be featuring their own favorite cookie links from the party!
This particular recipe took a bit of coaxing from my sweet husband to get it. It's one of my mom's recipes she makes every Christmas, and everyone loves it, so, of course, she was slow to part with it. However, I take after my dad when it comes to sharing and believe that if you have something worth sharing, you should share it. This recipe is definitely worth sharing!
I'm not sure of the cookie's origin, but my dad's parents had a lot of pecan trees on their farm, so when I was a child, there was an abundance of pecans every winter. I have fond memories of helping shell them. While the farm has long ago been turned into a neighborhood development with those trees now gone, my mom still manages to acquire bags of pecans from friends and family members every year, which means we can make lots of these cookies every winter! Whether you are given pecans or buy them from the store, I hope you'll try this recipe for Bertie's Pecan Snowball Cookies:
1 stick butter (margarine can work, but the butter makes it so much better!)
1 cup flour
1 cup finely chopped pecans
3 Tbsp. sugar
1 tsp. vanilla powdered sugar
Pre-heat oven to 300.
Soften butter, and mix with flour, pecans, sugar, and vanilla. Then roll into balls. (Ours are always about the size of traditional bouncy balls, so you can pop them in your mouth.)
Bake at 300 degrees for 30-35 minutes.
Roll them in a small bowl of powdered sugar while they are still very warm.
This batch should make between 3 and 4 dozen cookies, depending on the size of the balls. I also wish I could tell you exactly how much powdered sugar to use, but we just guess each time. Start with a cup and add as you run low.
I hope you'll enjoy these cookies as much as my family does!
Wow, last week we had some pretty amazing cookie posts! I love them all but my favorite was the
This recipes uses the best of both worlds cake mix and candy!
Since each of the four co-hosts picked out her favorite cookie, be sure to check all four blogs to see them.
Don't forget to grab a button if you were featured!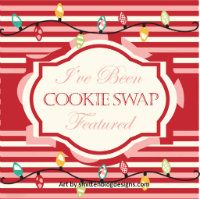 Please follow all four co-hosts.
This linky is for
COOKIE
RECIPE
posts only, please!
Link up as many times as you want!
This is a month long party so keep coming back for more recipes and features!
Each blog will be featuring their favorite links each week!
(Make sure you get a button if you have been featured.)
I'll be sharing this post at some of these parties here.