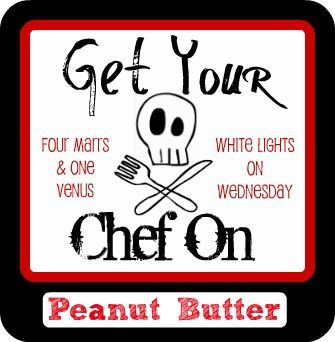 Well it's that time again blogging friends. I have entered the "Get your Chef on" challenge hosted by the lovely Jenn at
Four Marrs and One Venus
and Julie over at
White Lights on Wednesday
. I'm so excited for this challenge not only because the secret ingredient is one of my all time favorites "PEANUT BUTTER" but also because I missed the last one and made sure I was home to participate in this month's challenge.
We have been challenged to go make our best recipe using peanut butter and I have a doozie for your baking pleasure today. Peanut Butter Chocolate Chip Banana Bread. Now I know some of you are already shaking your heads thinking why would you mess around with a perfectly good banana bread (which I thought too before I made this) but the combination is so subtle and packed full of flavor, not to mention MOIST that you will just fall in love with this bread. I've made it twice this week alone. Now go make a loaf or three and enjoy!
Here's what you need:
1-1/2 cups flour, all purpose
3/4 cup sugar
1 Tbs. baking powder
1/2 tsp. salt
1 cup mashed ripe bananas, about 2 medium
1/3 cup milk
1/2 cup peanut butter
3 Tbs. vegetable or canola oil
1 egg
3/4 cup milk chocolate chips
Pre heat oven to 350 degrees. Spray three mini loaf pans with cooking spray and set aside.
In a bowl combine the flour, sugar, baking powder, and salt.
Make a well in the center and add the peanut butter, egg, mashed bananas, and oil. Mix by hand or with beaters until just combined.
Stir in the milk chocolate chips until mixed.
Evenly distribute the batter between the three sprayed mini loaf pans.
Bake for 35-40 minutes or until a toothpick inserted into the center comes out clean.
Remove from oven and cool in pan a few minutes before scarfing eating a slice or three.
This can also be made in a 9 x 5 inch loaf pan by extending the cooking time to 55-65 minutes or until a toothpick inserted into the center comes out clean.
Enjoy! I know I did :)
Serves - 3 mini loaves